Membre

worldsworstbutterfly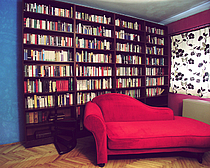 Collections

Mots-clés

books I own (1,349), british lit (495), historical fiction (345), american lit (340), non-fiction (321), humour and satire (217), poetry (214), plays (193), philosophy (190), favourites (173), e-books (171), war anti-war (158), history (140), biography (137), french lit (130), politics (129), ex and post yu (125), short stories (124), postmodernism (120), read 2012 (119), mystery (107), irish lit (98), female authors (95), read 2014 (92), psychology (91), read 2013 (86), read 2008 (84), science fiction (83), read 2007 (80), read 2010 (79), essays (76), memoir (74), read 2009 (71), read 2015 (71), read more than once (71), bardolatry (70), horror (68), german lit (68), magical realism (67), crime (66), read 2017 (59), literary criticism (56), read 2011 (55), graphic novel (55), dystopia (54), dafuq did I just read (54), read 2016 (53), mythology (48), read 2018 (45), childrens and ya (45), russian lit (45), existentialism (36), metafiction (31), books that somehow ruined my life (30), surrealism (29), lgbt (29), journalism (29), linguistics (29), young adult (27), african american (24), latin america (22), greek lit (22), hungarian lit (21), audio (18), italian lit (18), czech lit (17), african lit (12), semiotics (11), letters (10), canadian lit (8), music (8), diary (7), albanian lit (7), read 2019 (6), childrens (6), polish lit (5), français (5), nigerian lit (2), latin lit (2), art design photography (2), south asia (1), dutch lit (1), native american lit (1), of bitter torment and of tears (1)

Nuages

Médias

Groupes

Inscrit depuis

Jun 27, 2013
Adhésions

Aussi sur

En cours de lecture

Auteurs favoris

Chimamanda Ngozi Adichie, Aeschylus, Anna Akhmatova, Margaret Atwood, W. H. Auden, Ingeborg Bachmann, James Baldwin, Miklós Bánffy, Djuna Barnes, Roland Barthes, Matsuo Bashō, Jonathan Bate, Charles Baudelaire, Alison Bechdel, Samuel Beckett, Walter Benjamin, Jorge Luis Borges, Mikhail Bulgakov, Italo Calvino, Albert Camus, Leonora Carrington, Lewis Carroll, Emily Dickinson, Fyodor Dostoyevsky, Patricia Duncker, Andrea Dworkin, T. S. Eliot, Eurípides, William Faulkner, E. M. Forster, John Fowles, Jean Genet, Günter Grass, Seamus Heaney, bell hooks, Langston Hughes, Joris-Karl Huysmans, Henrik Ibsen, Shirley Jackson, Franz Kafka, Sarah Kane, John Keats, Søren Kierkegaard, Danilo Kiš, László Krasznahorkai, Harper Lee, Clarice Lispector, Stéphane Mallarmé, Martin McDonagh, China Miéville, Toni Morrison, Iris Murdoch, Lise Myhre, Vladimir Nabokov, Mirjana Novaković, Flann O'Brien, Mary Oliver, Dorothy Parker, Georges Perec, Sylvia Plath, Ezra Pound, Marcel Proust, Thomas Pynchon, Raymond Queneau, Mary Renault, Arthur Rimbaud, Bertrand Russell, Saki, Sappho, Jean-Paul Sartre, Marjane Satrapi, Bruno Schulz, W. G. Sebald, Anne Sexton, William Shakespeare, James S. Shapiro, Zadie Smith, Sophocles, Dubravka Stojanović, Tom Stoppard, Algernon Charles Swinburne, Donna Tartt, Dylan Thomas, Marina Tsvetaeva, Dubravka Ugrešić, Paul Verlaine, Alice Walker, David Foster Wallace, Bill Watterson, Evelyn Waugh, Walt Whitman, Oscar Wilde, Rozz Williams, Tennessee Williams, P. G. Wodehouse, Virginia Woolf

Favoris locaux

Librairies: Algoritam, Beopolis, Black Gull Books, Blackwell Charing Cross Road, Educational Centre, FNAC Brussel, Foyles (old Charing Cross branch), Knjižara Delfi, Knjižare Vulkan, Shakespeare and Company (Paris), Sterling Books, The English Book, Waterstone's Brussels, Waterstones London (Piccadilly), Waterstones London (Trafalgar Square)

Bibliothèques: Biblioteka "Sveti Sava"
Connexions des membres
Ami(e)s

Bibliothèque intéressante
Ce site utilise des cookies pour fournir nos services, optimiser les performances, pour les analyses, et (si vous n'êtes pas connecté) pour les publicités. En utilisant Librarything, vous reconnaissez avoir lu et compris nos conditions générales d'utilisation et de services. Votre utilisation du site et de ses services vaut acceptation de ces conditions et termes.