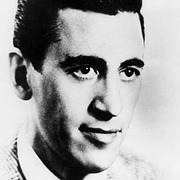 J. D. Salinger
(1919–2010)
Partage des connaissances
Nom canonique

Nom légal

Date de naissance

Date de décès

Sexe

Nationalité

Pays (pour la carte)

Lieu de naissance

Lieu du décès

Lieux de résidence

Études

Professions

Relations

Salinger, Margaret (daughter)
Douglas, Claire (1) (wife|divorced)
Maynard, Joyce (domestic partner)
Hemingway, Ernest (friend)
Maxwell, William (friend)
Ross, Lillian (friend) (

tout afficher

12)
Shawn, William (friend)
Burnett, Whit (teacher)
Hand, Learned (friend)
Hadley, Leila (friend)
Hotchner, A. E. (friend)
Salinger, Matt (son)

Organisations

US Army (U.S. 12th Infantry Regiment ∙ WWII)
Counter Intelligence Corps (CIC)
The New Yorker
Ramakrishna-Vivekananda Center of New York

Prix et distinctions

Courte biographie

Jerome David Salinger was an American writer best known for his novel The Catcher in the Rye. Salinger published several short stories in Story magazine in the early 1940s before serving in World War II. In 1948, his critically acclaimed story "A Perfect Day for Bananafish" appeared in The New Yorker, which became home to much of his later work. The Catcher in the Rye was published in 1951 and became an immediate popular success. Salinger's depiction of adolescent alienation and loss of innocence in the protagonist Holden Caulfield was influential, especially among adolescent readers. The novel was widely read and controversial.
Statistiques
Œuvres

86

Aussi par

11

Membres

101,203

Popularité

#89

Évaluation

3.9
Critiques

1,415

ISBN

590

Langues

39

Favoris

482

À propos

2

Liens rapides

1,395