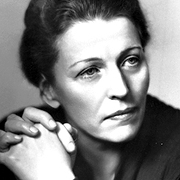 Pearl S. Buck
(1892–1973)
Partage des connaissances
Autre(s) nom(s)

Date de naissance

Date de décès

Lieu de sépulture

Sexe

Nationalité

Lieu de naissance

Lieu du décès

Cause du décès

Lieux de résidence

Études

Professions

Relations

Organisations

American Academy of Arts and Letters ( [1936])
Presbyterian Church in the United States
Kappa Delta
Oprichtster East and West Association (1942)
Oprichtster Welcome House (1949)
Oprichtster Pearl S. Buck Foundation (1964)

Prix et distinctions

Courte biographie

Pearl Sydenstricker was the daughter of Southern Presbyterian missionaries. She spent much of her life in China, though she graduated from Randolph-Macon Woman's College in Lynchburg, Virginia. From childhood she was bilingual in English and Chinese. She married an agricultural economist named John Lossing Buck in 1917, and together they lived in rural Anhwei province, an impoverished area. Her Pulitzer Prize-winning novel The Good Earth, and other stories set in China are based on what she learned while living there. In 1935, after divorcing John Buck, Pearl married publisher Richard Walsh. In 1938, Buck became the first American woman to win the Nobel Prize in literature. She is buried at Green Hills Farm, in Bucks County, Pennsylvania.
Statistiques
Œuvres

313

Aussi par

68

Membres

32,121

Popularité

#608

Évaluation

3.9
Critiques

581

ISBN

1,103

Langues

28

Favoris

75

Liens rapides

923