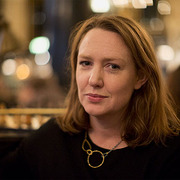 Partage des connaissances
Nom légal

Autre(s) nom(s)

Date de naissance

Sexe

Nationalité

Lieu de naissance

Lieux de résidence

Études

Professions

Organisations

Courte biographie

Paula Hawkins worked as a journalist for fifteen years before turning her hand to fiction. She lives in London. The Girl on the Train is her first thriller. Also authored nonfiction: Selling Houses, The Money Goddess, and The Life Doctor. Wrote romantic comedy fiction under the name Amy Silver.




Paula Hawkins (born 26 August 1972) is a Zimbabwe-born British author, best known for her best-selling psychological thriller novel The Girl on the Train (2015). Hawkins' second thriller novel, Into the Water, was released in 2017.

Hawkins was born and raised in Salisbury, Rhodesia (now Harare, Zimbabwe). Her father was an economics professor and financial journalist. Before moving to London in 1989 at the age of 17, Hawkins attended Arundel School, Harare, Zimbabwe then studied for her A-Levels at Collingham College, an independent college in Kensington, West London. Hawkins read philosophy, politics and economics at Keble College, University of Oxford.

She worked as a journalist for 15 years, including The Times' business sections and a number of publications on a freelance basis, and wrote a financial advice book for women, The Money Goddess. Hawkins wrote 4 romantic comedy novels under the name Amy Silver, including Confessions of a Reluctant Recessionista.

Hawkins then challenged herself to write a darker, more serious story. Thi s became her breakthrough novel The Girl on the Train (2015), a complex thriller, with themes of domestic violence, alcohol, and drug abuse. This took her 6 months writing full time to complete, nd she had to borrow money from her father. The novel was adapted into a film starring Emily Blunt in 2016. In November 2016, she was listed as one of BBC's 100 Women. She lives in South London.
Statistiques
Œuvres

12

Aussi par

1

Membres

22,831

Popularité

#924

Évaluation

3.6
Critiques

1,344

ISBN

366

Langues

27

Favoris

11

Liens rapides

507