Golden Age Illustrators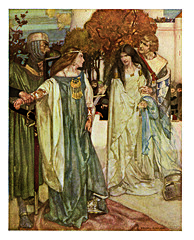 Ce groupe est officiellement « en sommeil ». Ça arrive.
Si vous voulez réactiver ce groupe ou créer un nouveau groupe sur le même sujet, allez voir cette page.
A group for all who admire the work of the great illustrators of the so-called Golden Age, artists such as Arthur Rackham, Dulac, Kay Nielsen, N.C. Wyeth, Warwick Goble, the Robinsons (C. and W.H), the Brocks (C .E. and H. M.), Howard Pyle, and many more.
An opportunity to write about your favourite books and your collecting experiences and the books you would like to see re-issued in modern editions.
Sujet

Sujet

Messages

Dernier message

too many books

3 non-lus

/ 3

bookstopshere

,

Juillet

2020
Introducing myself ...

2 non-lus

/ 2

wdripp

,

Mai

2020
Henry Holiday's illustrations to Lewis Carroll's "The Hunting of the Snark"

2 non-lus

/ 2

arthurfrayn

,

Avril

2017
Lotte Reiniger

1 non-lu

/ 1

2wonderY

,

Juin

2016
Golden Age art - articles, websites, books

2 non-lus

/ 2

2wonderY

,

Novembre

2014
project that might (hey should) be of interest

3 non-lus

/ 3

2wonderY

,

Mai

2014
Technical assistance please.......

6 non-lus

/ 6

2wonderY

,

Avril

2014
William Starkweather

17 non-lus

/ 17

Jierokutai

,

Mars

2014
Golden Age books we would like to see re-issued (with top quality paper, bindings,etc)

57 non-lus

/ 57

JMenges

,

Novembre

2012
artworks auction

1 non-lu

/ 1

pageboy

,

Octobre

2012
Little Nemo Google Doodle for Oct 15, 2012

1 non-lu

/ 1

LolaWalser

,

Octobre

2012
Recent from Dover— from the "You might have missed it dept."

14 non-lus

/ 14

arthurfrayn

,

Août

2012
Willy Pogány attribute?

5 non-lus

/ 5

arthurfrayn

,

Août

2012
Frank C. Pape

3 non-lus

/ 3

2wonderY

,

Septembre

2011
I'm so glad this group exists!

30 non-lus

/ 30

pageboy

,

Septembre

2011
Apologies

9 non-lus

/ 9

pageboy

,

Août

2011
Resources

14 non-lus

/ 14

SOTA_Museum

,

Août

2011
Grayscale reproductions in art books

8 non-lus

/ 8

pageboy

,

Avril

2011
Arthur Rackham or not?

2 non-lus

/ 2

JMenges

,

Mars

2011
Your latest treasures

1 non-lu

/ 1

Marensr

,

Janvier

2011
Christmas book illustrations - The Nativity story

1 non-lu

/ 1

2wonderY

,

Décembre

2010
Golden Age Women

4 non-lus

/ 4

dinoboy

,

Décembre

2010
Some golden age illustrators on sale at Dover

4 non-lus

/ 4

illustrationfan

,

Août

2010
Who is your favourite illustrator of the Arabian Nights?

27 non-lus

/ 27

JMenges

,

Mai

2010
Bloomsbury auction of golden age illustrator originals

3 non-lus

/ 3

johnnyapollo

,

Décembre

2009
Modern Masters whose works (illustrations) have reflected the Golden Age of the past

20 non-lus

/ 20

skullduggery

,

Juin

2009
King Arthur

11 non-lus

/ 11

pageboy

,

Mai

2009
New Joseph Clement Coll book

1 non-lu

/ 1

illustrationfan

,

Avril

2009
Visions of Camelot: Great Illustrations of King Arthur and His Court by Jeff A. Menges

4 non-lus

/ 4

JMenges

,

Avril

2009
steals and/or finds

4 non-lus

/ 4

dinoboy

,

Mars

2009
Dulac press cutting

1 non-lu

/ 1

pageboy

,

Mars

2009
Thank you!

1 non-lu

/ 1

pageboy

,

Mars

2009
Classic Illustrators - an invitation

1 non-lu

/ 1

pageboy

,

Mars

2009
Wotan

1 non-lu

/ 1

pageboy

,

Mars

2009
Favorite illustrator(s) of the Golden Age

12 non-lus

/ 12

Marensr

,

Mars

2009
Golden Age illustrators of Pen & Ink mediums

5 non-lus

/ 5

dinoboy

,

Mars

2009
This is a feature balloon