Inklings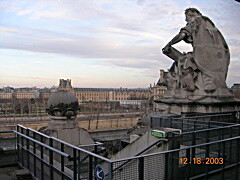 Ce groupe est officiellement « en sommeil ». Ça arrive.
Si vous voulez réactiver ce groupe ou créer un nouveau groupe sur le même sujet, allez voir cette page.
Dedicated to books written by, or written about, or influenced by, the writing circle known as the Inklings-- CS Lewis, JRR Tolkein, GK Chesterton, Charles Willams, Owen Barfield, et al.
Boundaries are as ephemeral as the back of the wardrobe-- it also seems appropriate to include books that influenced the Inklings-- medieval writings, Norse myths, George MacDonald, and many more.
Enjoy!
Sujet

Sujet

Messages

Dernier message

CS Lewis is 5th most popular author at LT

3 non-lus

/ 3

eschator83

,

Juillet

2021
The Place of the Lion - Charles Williams Group Read

5 non-lus

/ 5

Majel-Susan

,

Mai

2021
Is it worth...

9 non-lus

/ 9

eschator83

,

Mars

2021
"The Fellowship" - group biography of Lewis, Tolkien, Williams & Barfield

4 non-lus

/ 4

gabriel

,

Octobre

2020
Anyone ever heard of Tolkien's cousin...

1 non-lu

/ 1

Crypto-Willobie

,

Octobre

2020
a C. S. Lewis sighting...

2 non-lus

/ 2

jfclark

,

Novembre

2017
Joseph Pearce

3 non-lus

/ 3

LesMiserables

,

Octobre

2015
new tolkien book, new tolkien website

1 non-lu

/ 1

Crypto-Willobie

,

Mai

2014
Favorite Lewis books

6 non-lus

/ 6

Goldengrove

,

Juillet

2010
Why do some critics hate, others love Tolkien?

28 non-lus

/ 28

MyopicBookworm

,

Mars

2010
Out of the Silent Planet

3 non-lus

/ 3

FeidhlimM

,

Novembre

2009
proto-Inklings

2 non-lus

/ 2

agmlll

,

Septembre

2009
Book shows Lewis and Tolkien influence

10 non-lus

/ 10

agmlll

,

Septembre

2009
Charles Williams

6 non-lus

/ 6

atimco

,

Avril

2009
If the Inklings didn't exist

8 non-lus

/ 8

oakes

,

Février

2009
Sayers recommendations??

7 non-lus

/ 7

hayesstw

,

Septembre

2008
Narnia

5 non-lus

/ 5

sonofaslan

,

Avril

2008
Listing the Inklings

1 non-lu

/ 1

parelle

,

Février

2008
Inklings web site

4 non-lus

/ 4

MrsLee

,

Février

2007
Inklings Message Board

35 non-lus

/ 35

MyopicBookworm

,

Janvier

2007
This is a feature balloon