PinoyThing!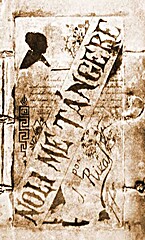 Ce groupe est officiellement « en sommeil ». Ça arrive.
Si vous voulez réactiver ce groupe ou créer un nouveau groupe sur le même sujet, allez voir cette page.
Pinoy readers and readers of Pinoy books are welcome to come in, have a cup of barako, and talk about their favorite Filipino books and authors. All discussions welcome, whether the topic's Bob Ong or Jose Rizal.
Sujet

Sujet

Messages

Dernier message

Introduce yourself

1 non-lu

/ 1

quardz

,

Janvier

2012
Anybody there?

2 non-lus

/ 2

quardz

,

Janvier

2012
Let's get this group going again!

4 non-lus

/ 4

jmc_cndk8

,

Septembre

2011
Kindle

1 non-lu

/ 1

dizzydame

,

Septembre

2011
Literary Events in Manila

6 non-lus

/ 6

dizzydame

,

Septembre

2011
A book fair for indie people

2 non-lus

/ 2

dizzydame

,

Septembre

2011
magick in pinoy literature

1 non-lu

/ 1

Dario_de_Giacomo

,

Septembre

2011
2nd Hand Books

2 non-lus

/ 2

alenurd

,

Avril

2010
Is this group still active?

3 non-lus

/ 3

jmc_cndk8

,

Mars

2010
Fr. Miguel A Bernad, SJ

2 non-lus

/ 2

dizzydame

,

Octobre

2009
Books To Recommend To Me (Biography or History)

2 non-lus

/ 2

dizzydame

,

Octobre

2009
Let's trade!

12 non-lus

/ 12

skoobdo

,

Octobre

2009
My Precious Books Gone, Taken By Ondoy

1 non-lu

/ 1

nurseina

,

Octobre

2009
survey: book youve read the most number of times

33 non-lus

/ 33

abaniko

,

Octobre

2009
I don't have Nick Joaquin! Shame, SHAME!

21 non-lus

/ 21

nurseina

,

Septembre

2009
My book blog!

1 non-lu

/ 1

sumthinblue

,

Février

2009
Plans to Read Filipino Books in 2009?

4 non-lus

/ 4

dizzydame

,

Janvier

2009
Feminist PinoyThing

4 non-lus

/ 4

janis_mae

,

Septembre

2008
Basic DIY book on home renovation?

1 non-lu

/ 1

dizzydame

,

Juillet

2008
Best sources for Filipino books in the US?

7 non-lus

/ 7

dizzydame

,

Juillet

2008
2008 Manila International Book Fair

1 non-lu

/ 1

anikins

,

Juillet

2008
What's the best cheap/secondhand book store you know?

23 non-lus

/ 23

mawgee

,

Juin

2008
Current Reading

1 non-lu

/ 1

eldritch00

,

Mai

2008
PinoyThing Contest: Win FREE 1 year's LibraryThing membership!

16 non-lus

/ 16

micketymoc

,

Janvier

2008
shelfari

13 non-lus

/ 13

jaypoxx

,

Janvier

2008
Book-filled Greetings to PinoyThing'ers

2 non-lus

/ 2

dizzydame

,

Janvier

2008
PinoyThingamabrarians... where are you from?

16 non-lus

/ 16

dancerinthedark

,

Décembre

2007
Favorite line?

6 non-lus

/ 6

dancerinthedark

,

Décembre

2007
Books on the Filipino language and/or dialects-

5 non-lus

/ 5

dizzydame

,

Décembre

2007
UP PRESS SALE

2 non-lus

/ 2

krvilla

,

Décembre

2007
MV Doulos, docking in Manila starting Jan 5

8 non-lus

/ 8

krvilla

,

Décembre

2007
Really good finds at secondhand bookstores!

22 non-lus

/ 22

krvilla

,

Décembre

2007
Filipino Literature for Beginners

4 non-lus

/ 4

dizzydame

,

Novembre

2007
so what pinoy books are you giving away this xmas?

6 non-lus

/ 6

dizzydame

,

Novembre

2007
"books are the last bastion of analog"

2 non-lus

/ 2

micketymoc

,

Novembre

2007
Libraries in Shopping Malls?

4 non-lus

/ 4

anikins

,

Novembre

2007
Penguin Red Classics

11 non-lus

/ 11

anikins

,

Novembre

2007
Issues surrounding media's role in the modern world: recommendations, please

11 non-lus

/ 11

eyelesbarrow

,

Novembre

2007
Do you lend your books?

12 non-lus

/ 12

eyelesbarrow

,

Novembre

2007
Uploaded Covers

1 non-lu

/ 1

krvilla

,

Novembre

2007
Message from Tim Spalding

3 non-lus

/ 3

krvilla

,

Novembre

2007
Book Care in Tropical Weather

5 non-lus

/ 5

krvilla

,

Octobre

2007
Where to buy books in Davao

2 non-lus

/ 2

micketymoc

,

Octobre

2007
Not Just Papercuts: Horrible Bookstore Experiences

4 non-lus

/ 4

janis_mae

,

Octobre

2007
Confess your book biases here

26 non-lus

/ 26

janis_mae

,

Octobre

2007
The PinoyThing! Irregulars?

6 non-lus

/ 6

shewhowearsred

,

Septembre

2007
Price Stickers and Whatnot

16 non-lus

/ 16

dizzydame

,

Septembre

2007
Favorite literary characters?

5 non-lus

/ 5

bastardmoon

,

Septembre

2007
Which Bookstore do you prefer?

9 non-lus

/ 9

mamu

,

Septembre

2007
Favorite character introduction?

3 non-lus

/ 3

dancerinthedark

,

Septembre

2007
What is your most valuable book?

1 non-lu

/ 1

dancerinthedark

,

Septembre

2007
An attempt to increase # of posts: How are your books organized in the shelf?

5 non-lus

/ 5

inkdrinker

,

Septembre

2007
manila intl book fair '07

15 non-lus

/ 15

eldritch00

,

Septembre

2007
Owned but unread, read but not owned?

2 non-lus

/ 2

eldritch00

,

Septembre

2007
Powerbook's Anniversary Sale

11 non-lus

/ 11

shewhowearsred

,

Août

2007
What was the first book you read/owned?

20 non-lus

/ 20

shewhowearsred

,

Août

2007
MAC ARTHUR: new book by bob ong

3 non-lus

/ 3

alenurd

,

Août

2007
PinoyThing will soon be 1 year old!

2 non-lus

/ 2

loiscastillo

,

Août

2007
Dusk, Sionil Jose

1 non-lu

/ 1

urduha

,

Mai

2007
Swap gift lifetime membership for books!

6 non-lus

/ 6

juned

,

Avril

2007
Hagedorn, Uriza-Holthe, Bautista

6 non-lus

/ 6

urduha

,

Avril

2007
Searching for article ideas - to pitch to Read magazine?

2 non-lus

/ 2

Erick_Tubil

,

Février

2007
Powerbooks Warehouse Sale begins today!

4 non-lus

/ 4

akosikae

,

Février

2007
2006 Lists

1 non-lu

/ 1

eldritch00

,

Décembre

2006
How to succeed in running a book shop?

4 non-lus

/ 4

aeosdur

,

Décembre

2006
Kwentong Tambay (Nicanor David Jr.)

2 non-lus

/ 2

anikins

,

Novembre

2006
text on Philippine history?

13 non-lus

/ 13

eldritch00

,

Octobre

2006
Noli Me Tangere (Penguin Classics)

8 non-lus

/ 8

aeosdur

,

Octobre

2006
Manila Bookfair... who's going?

10 non-lus

/ 10

julsitos2

,

Septembre

2006
Welcome to PinoyThing... and new Filipino books

4 non-lus

/ 4

anikins

,

Août

2006
This is a feature balloon