Archaeology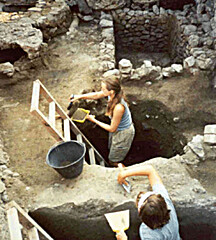 Ce groupe est officiellement « en sommeil ». Ça arrive.
Si vous voulez réactiver ce groupe ou créer un nouveau groupe sur le même sujet, allez voir cette page.
A place for arm-chair archaeologists ... although we'd be happy to welcome the field workers who actually have to deal with heat, dust, locals, and diminished access to cold beverages!
Sujet

Sujet

Messages

Dernier message

Does anyone else LOVE Amelia Peabody?

8 non-lus

/ 8

mnleona

,

Août

2020
hot topics

5 non-lus

/ 5

asurbanipal

,

Janvier

2020
Neolithic semantics

189 non-lus

/ 189

JohnLindsay

,

Janvier

2014
Destruction of Archaeological Sites in Egypt

2 non-lus

/ 2

Garp83

,

Mars

2013
So how did you get interested?

21 non-lus

/ 21

HarryMacDonald

,

Janvier

2013
Gathering time

5 non-lus

/ 5

JohnLindsay

,

Septembre

2012
AIA Annual Meeting

1 non-lu

/ 1

Garp83

,

Janvier

2012
Have you worked on digs?

33 non-lus

/ 33

Rob_AC

,

Mars

2010
The Minoan Empire; 3200 BC to 1400 BC

1 non-lu

/ 1

JimThomson

,

Novembre

2009
Dead Sea Scrolls

1 non-lu

/ 1

mnleona

,

Octobre

2009
Professional archaeologists?

1 non-lu

/ 1

conceptDawg

,

Juillet

2009
The History of Archaeology

9 non-lus

/ 9

Nicole_VanK

,

Mai

2009
Stable carbon isotope analysis

3 non-lus

/ 3

marc_beherec

,

Mai

2009
industrial archaeology?

4 non-lus

/ 4

Helcura

,

Août

2008
Introduction

1 non-lu

/ 1

mrsradcliffe

,

Août

2007
Question about Terminology

4 non-lus

/ 4

archaeofreak

,

Juillet

2007
Archaeology Message Board

3 non-lus

/ 3

jerry.sparks

,

Août

2006
This is a feature balloon