History Readers: Clio's (Pleasure?) Palace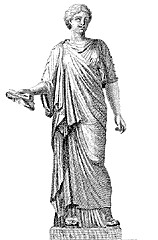 Ce groupe est officiellement « en sommeil ». Ça arrive.
Si vous voulez réactiver ce groupe ou créer un nouveau groupe sur le même sujet, allez voir cette page.
Inspired by the Muse of History? Join us.

For an initiation rite, how about each of suggest one recently read history title that we recommend to the rest?
Sujet

Sujet

Messages

Dernier message

Books on the late Austro-Hungarian Empire and just after.

4 non-lus

/ 4

Steven_VI

,

Mai

2014
Books with Years as Titles

49 non-lus

/ 49

Robert_Weaver

,

Février

2014
Initiation Rite

5 non-lus

/ 5

sgtbigg

,

Juillet

2011
History Readers-What are you reading in November?

3 non-lus

/ 3

OldSarge

,

Novembre

2010
Russian Serfdom Suggestions

4 non-lus

/ 4

eromsted

,

Novembre

2009
on John Adams

1 non-lu

/ 1

corsair522

,

Avril

2009
A special invitation.....

1 non-lu

/ 1

Urquhart

,

Mars

2009
Recently Read Recommendation

2 non-lus

/ 2

walbat

,

Février

2009
What are You Reading in what's left of 2008?

21 non-lus

/ 21

DaynaRT

,

Décembre

2008
A Historic Title

3 non-lus

/ 3

staffordcastle

,

Décembre

2008
Dutch colonies & trading posts

20 non-lus

/ 20

AsYouKnow_Bob

,

Novembre

2008
Clio's (Pleasure?) Palace Message Board

41 non-lus

/ 41

ThePam

,

Août

2008
Ancient World revisionism...

22 non-lus

/ 22

AsYouKnow_Bob

,

Août

2008
What are you reading (July 2008)?

8 non-lus

/ 8

JFCooper

,

Août

2008
Ottoman Empire

3 non-lus

/ 3

marieke54

,

Août

2008
What are you reading? (June 08)

16 non-lus

/ 16

marieke54

,

Juillet

2008
Fontana History of Europe

1 non-lu

/ 1

BartGr.

,

Juin

2008
Delhi/India

5 non-lus

/ 5

marieke54

,

Juin

2008
Leaving soon

5 non-lus

/ 5

ThePam

,

Juin

2008
What Are You Reading (May, 2008)?

15 non-lus

/ 15

OldSarge

,

Mai

2008
Initiation

5 non-lus

/ 5

JFCooper

,

Mai

2008
What are you reading (April, 2008)?

24 non-lus

/ 24

nbmars

,

Mai

2008
Needed: suggestions for reading on World War II

15 non-lus

/ 15

deebee1

,

Avril

2008
What are you reading in March (2008)?

18 non-lus

/ 18

nbmars

,

Mars

2008
The Coldest Winter

2 non-lus

/ 2

burgett7

,

Mars

2008
What Are You Reading in February (2008)

14 non-lus

/ 14

sergerca

,

Mars

2008
What History Are You Reading in December ?

7 non-lus

/ 7

AnnaClaire

,

Décembre

2007
Histories of Iraq?

11 non-lus

/ 11

GoofyOcean110

,

Décembre

2007
Wheels within wheels

5 non-lus

/ 5

varielle

,

Décembre

2007
South American History

20 non-lus

/ 20

ThePam

,

Novembre

2007
"History is the bunk."

21 non-lus

/ 21

E59F

,

Novembre

2007
Kenya

3 non-lus

/ 3

rebeccanyc

,

Octobre

2007
Interest in History

18 non-lus

/ 18

rcss67

,

Octobre

2007
Spanish Civil War: Recommendations?

8 non-lus

/ 8

dwsact

,

Octobre

2007
Mao and Maoist China

1 non-lu

/ 1

GoofyOcean110

,

Septembre

2007
Needed: suggestions for reading on World War II

5 non-lus

/ 5

Ammianus

,

Septembre

2007
Appeasement

4 non-lus

/ 4

varielle

,

Juillet

2007
Mississippi since the civil rights movement?

2 non-lus

/ 2

kahudson

,

Juin

2007
Chinese Communists

11 non-lus

/ 11

Autodafe

,

Juin

2007
Kepler

1 non-lu

/ 1

dougwood57

,

Mai

2007
Riposte to Correlli Barnett?

3 non-lus

/ 3

airminded

,

Mai

2007
Frank McLynn?

2 non-lus

/ 2

Ammianus

,

Février

2007
This is a feature balloon