Purely Programmers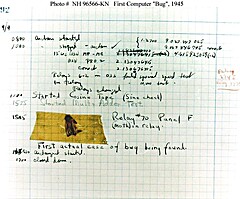 Ce groupe est officiellement « en sommeil ». Ça arrive.
Si vous voulez réactiver ce groupe ou créer un nouveau groupe sur le même sujet, allez voir cette page.
A group for programmers, software developers and those interested in computer languages. Or just those who have books on the subject.
Sujet

Sujet

Messages

Dernier message

Sorting through programming books

6 non-lus

/ 6

kiparsky

,

Mai

2020
Recommendations on books on Parsing Techniques and Context-Free Languages

6 non-lus

/ 6

SamHobbs

,

Août

2017
I'm looking for a new language

21 non-lus

/ 21

SamHobbs

,

Août

2017
Reverse engineering algorithms?

6 non-lus

/ 6

timspalding

,

Août

2015
Most Useful Programming Languages

44 non-lus

/ 44

vy0123

,

Décembre

2013
Ruby books

8 non-lus

/ 8

crisafugate

,

Mai

2013
Which LISP?

19 non-lus

/ 19

crisafugate

,

Mai

2013
Not quite believing him...

3 non-lus

/ 3

dukedom_enough

,

Février

2012
beautiful bug

4 non-lus

/ 4

PaulFoley

,

Février

2012
Keeping track of on/offs without index-only tables?

3 non-lus

/ 3

PaulFoley

,

Septembre

2011
Any good books on data structures

5 non-lus

/ 5

bvs

,

Septembre

2011
Starting to lay out a web app and need to decide on language

11 non-lus

/ 11

frogman2

,

Mars

2011
LibraryThing Developer Profile suggestion

2 non-lus

/ 2

AbeerHussain

,

Janvier

2011
Made my day

4 non-lus

/ 4

Amtep

,

Mai

2010
history of computing

10 non-lus

/ 10

kukulaj

,

Avril

2010
bathsheba.com is looking for a business manager

3 non-lus

/ 3

sunny

,

Janvier

2010
iPhone / iPod touch drone

1 non-lu

/ 1

sunny

,

Janvier

2010
Lean Development

5 non-lus

/ 5

RoboSchro

,

Octobre

2009
looking for a good wpf book

1 non-lu

/ 1

ethanw

,

Septembre

2009
mashups and web services

1 non-lu

/ 1

Willie_Dynomite

,

Septembre

2009
building a website need advice

2 non-lus

/ 2

Makis

,

Septembre

2009
Ajax, Web 2.0, and a little .NET?

5 non-lus

/ 5

Makis

,

Septembre

2009
Most common repeated strings

10 non-lus

/ 10

Makis

,

Août

2009
Survey of Programming Languages

7 non-lus

/ 7

bvs

,

Juillet

2009
R books

3 non-lus

/ 3

kevinmcguinness

,

Juin

2009
random reading

6 non-lus

/ 6

MMcM

,

Mai

2009
programming interview books

7 non-lus

/ 7

jrandrews

,

Mai

2009
New to coding

7 non-lus

/ 7

jrandrews

,

Mai

2009
Recreational programming!

23 non-lus

/ 23

timspalding

,

Avril

2009
A newbie's question

10 non-lus

/ 10

utoxin

,

Février

2009
My new favorite language

2 non-lus

/ 2

sarahemmm

,

Décembre

2008
asp.net

3 non-lus

/ 3

zwoolard

,

Novembre

2008
COBOL vs Teh Governator

5 non-lus

/ 5

WholeHouseLibrary

,

Août

2008
LibraryThing 1 / Gmail 0

5 non-lus

/ 5

timspalding

,

Août

2008
Help on a book-titles algorithm

16 non-lus

/ 16

lilithcat

,

Juillet

2008
Outlook tasks

5 non-lus

/ 5

mirmir

,

Mai

2008
Next programming book

29 non-lus

/ 29

modalursine

,

Janvier

2008
Open Source Software for small libraries?

3 non-lus

/ 3

PaulFoley

,

Janvier

2008
VBA and SQL book recommendations

3 non-lus

/ 3

M_Bartley

,

Novembre

2007
Can you donate any technical books to Vanuatu?

1 non-lu

/ 1

felius

,

Octobre

2007
Hierarchical Tags??

3 non-lus

/ 3

s_givon

,

Avril

2007
"Auto-tagging" - Take existing tags to tag your books

12 non-lus

/ 12

QuesterofTruth

,

Mars

2007
Interesting uses of the LibraryThing data?

4 non-lus

/ 4

WorldMaker

,

Mars

2007
All time favourite programming book

1 non-lu

/ 1

tfhank

,

Janvier

2007
Purely Programmers Message Board

34 non-lus

/ 34

serbook

,

Janvier

2007
studying LT members' use of tags

7 non-lus

/ 7

WhimsyWinx

,

Novembre

2006
A picture for the group page

16 non-lus

/ 16

felius

,

Août

2006
This is a feature balloon