ROOT - 2013 Read Our Own Tomes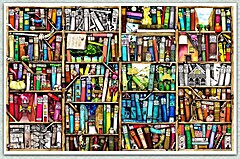 Ce groupe est officiellement « en sommeil ». Ça arrive.
Si vous voulez réactiver ce groupe ou créer un nouveau groupe sur le même sujet, allez voir cette page.
Together in 2012 we read more than 3,000 of our own books - BOMBS was successful but some of the members were not happy with the name. So this year we have a new name and it's one that states it all. We will be Reading Our Own Tomes (those old books that deserve their time in the limelight). Join in the fight against unread books! But ROOT also says how we support each other in the effort and cheer each other to their own goal.

Many of us have mountains of books that are just waiting to be read and this is are way of making that decision to read those books. Newer and prettier books are always catching our eyes so older books fall farther to the bottom of the pile. This group is designed to help everyone see those books that have been hiding, and read them with the same joy as a new book arriving from the bookstore.

We will have a joint ticker and a monthly thread to encourage all who enlist for this fight against the unread book. We will root on each other to reach our goals and win the fight against unread books.
Sujet

Sujet

Messages

Dernier message

PRHOB - Paul Reading His Own Books

6 non-lus

/ 6

.Monkey.

,

Mars

2014
Anita (FAMeulstee) tries to read some ROOTs

142 non-lus

/ 142

FAMeulstee

,

Janvier

2014
TBR@56 Robertgreaves's challenge for 2013/4 part 1

49 non-lus

/ 49

Robertgreaves

,

Janvier

2014
DECEMBER ROOT - Progress Thread

234 non-lus

/ 234

cyderry

,

Janvier

2014
rainpebble ROOTs on!

125 non-lus

/ 125

connie53

,

Janvier

2014
MissWatson digs up some ROOTS buried since the 90ies

57 non-lus

/ 57

MissWatson

,

Janvier

2014
Elcee's 2014 tomes

1 non-lu

/ 1

Elcee

,

Janvier

2014
riverwillow's 2013 attempt to read some books

63 non-lus

/ 63

riverwillow

,

Janvier

2014
Chèli's Cheering for her ROOT in 2013

77 non-lus

/ 77

rabbitprincess

,

Janvier

2014
BJ's ROOT for 2013

24 non-lus

/ 24

connie53

,

Janvier

2014
konallis plucks deep-rooted books

37 non-lus

/ 37

konallis

,

Janvier

2014
new years resolution fail

1 non-lu

/ 1

cmartlib

,

Janvier

2014
Karen_o's 2013 progress in clearing the living room

26 non-lus

/ 26

karen_o

,

Janvier

2014
Quaisior's ROOTs 2013

16 non-lus

/ 16

Quaisior

,

Janvier

2014
mandymarie20 rifling through her ROOT's 2012

76 non-lus

/ 76

connie53

,

Janvier

2014
Rhea's 2013 ROOT Challenge

64 non-lus

/ 64

cyderry

,

Janvier

2014
Uncharted territory - Henrik's quest to the Heart of TBR

60 non-lus

/ 60

Henrik_Madsen

,

Janvier

2014
Bragan vs. the TBR Pile 2013, Part 2: It Begins!

296 non-lus

/ 296

bragan

,

Janvier

2014
TLOeffler--My Roots

168 non-lus

/ 168

connie53

,

Janvier

2014
LauraBrook tries to pull out some ROOTS

59 non-lus

/ 59

LauraBrook

,

Décembre

2013
Connie's challenge 2013 part 2

223 non-lus

/ 223

connie53

,

Décembre

2013
Shearon, who hates gardening, will pull them out by the roots

41 non-lus

/ 41

connie53

,

Décembre

2013
2013 could be the year IpsoIvan makes a dent in the shelves

129 non-lus

/ 129

ipsoivan

,

Décembre

2013
detailmuse's ROOTings

61 non-lus

/ 61

DetailMuse

,

Décembre

2013
Lori's (lkernagh) 2013 ROOT for 30

74 non-lus

/ 74

rabbitprincess

,

Décembre

2013
kkunker's 2013 ROOT challenge

31 non-lus

/ 31

kkunker

,

Décembre

2013
Terri (tymfos) ROOTs through her bookshelves in 2013

170 non-lus

/ 170

tymfos

,

Décembre

2013
Conachair's 2013 attack on the ROOTs on the shelve

27 non-lus

/ 27

Ameise1

,

Décembre

2013
raidergirl3: ROOT record

73 non-lus

/ 73

connie53

,

Décembre

2013
karspeak whittles away in 2013

64 non-lus

/ 64

karspeak

,

Décembre

2013
rabbitprincess gets to the ROOT of the matter in 2013

129 non-lus

/ 129

karspeak

,

Décembre

2013
Christina reads her own books in 2013

81 non-lus

/ 81

christina_reads

,

Décembre

2013
Clue 2013

44 non-lus

/ 44

clue

,

Décembre

2013
PolymathicMonkey vs the Shelves in 2013

92 non-lus

/ 92

.Monkey.

,

Décembre

2013
Edgewood roams through the tomes in his home

25 non-lus

/ 25

rabbitprincess

,

Décembre

2013
Tallulah_Rose ROOTs herself towards the goal

31 non-lus

/ 31

Tallulah_Rose

,

Décembre

2013
Ronincats really needs to read her own books

63 non-lus

/ 63

connie53

,

Décembre

2013
si reading his own books

15 non-lus

/ 15

connie53

,

Décembre

2013
Bahzah - ROOTing in a Forest of Books

68 non-lus

/ 68

connie53

,

Décembre

2013
DeltaQueen Roots Through Her Books in 2013

272 non-lus

/ 272

DeltaQueen50

,

Décembre

2013
Ireadthereforeiam becomes Ireadmyowntomesthereforeiam

25 non-lus

/ 25

rabbitprincess

,

Décembre

2013
Majkia Mines a Mountain

113 non-lus

/ 113

majkia

,

Décembre

2013
chexmix: admitting he is powerless against books

92 non-lus

/ 92

connie53

,

Décembre

2013
VivienneR grasps at the ROOTS

98 non-lus

/ 98

VivienneR

,

Décembre

2013
fuzzi's Attempt in 2013 to Extricate Those Deeply ROOTed Tomes!

101 non-lus

/ 101

fuzzi

,

Décembre

2013
Nickelini tackles Mnt TBR

140 non-lus

/ 140

connie53

,

Décembre

2013
shinyone's ROOTs

63 non-lus

/ 63

rabbitprincess

,

Décembre

2013
StormRaven's ROOTs for 2013

34 non-lus

/ 34

StormRaven

,

Décembre

2013
Caroline ROOTs From Her Ipad

56 non-lus

/ 56

craso

,

Décembre

2013
ROOTing in Sarah's TBR Pile

29 non-lus

/ 29

connie53

,

Décembre

2013
Benita's Big Bad Book Pile 2013

63 non-lus

/ 63

benitastrnad

,

Décembre

2013
What are you best ROOTS for 2013?

22 non-lus

/ 22

LittleTaiko

,

Décembre

2013
Doglover58's pledge

30 non-lus

/ 30

beach85

,

Décembre

2013
New

5 non-lus

/ 5

antonomasia

,

Décembre

2013
torontoc's ROOT Reading for 2013

57 non-lus

/ 57

torontoc

,

Décembre

2013
Your Best Book/s of 2013?

1 non-lu

/ 1

karspeak

,

Décembre

2013
Dudes22 (Betty) ROOTS through the TBR pile

190 non-lus

/ 190

connie53

,

Décembre

2013
qebo's 2013 ROOT challenge

21 non-lus

/ 21

qebo

,

Décembre

2013
deep220 is trembling in fear!

47 non-lus

/ 47

deep220

,

Décembre

2013
BBleil's ROOT Challenge 2013

5 non-lus

/ 5

MissWatson

,

Décembre

2013
Lilisin ROOTs in 2013

35 non-lus

/ 35

MissWatson

,

Décembre

2013
Ramblingivy is ROOTing and rummaging through her tbr pile

40 non-lus

/ 40

ramblingivy

,

Décembre

2013
melonbrawl ROOTs around in the book piles

48 non-lus

/ 48

melonbrawl

,

Décembre

2013
thorold takes radical action in 2013

66 non-lus

/ 66

thorold

,

Décembre

2013
Pigletto ROOTS them out

22 non-lus

/ 22

connie53

,

Décembre

2013
G gets to the ROOTs in 2013

89 non-lus

/ 89

NielsenGW

,

Décembre

2013
brewergirl's ROOT list for 2013

26 non-lus

/ 26

MissWatson

,

Décembre

2013
NOVEMBER ROOT - Progress thread

138 non-lus

/ 138

laytonwoman3rd

,

Décembre

2013
LittleTaiko 2013 ROOTS

46 non-lus

/ 46

LittleTaiko

,

Décembre

2013
Johanna's Clearing her Shelves!

42 non-lus

/ 42

johanna414

,

Décembre

2013
1Owlette's December Rush

6 non-lus

/ 6

connie53

,

Décembre

2013
kelsiface's 2013 ROOTed books

51 non-lus

/ 51

kelsiface

,

Novembre

2013
Nicholette's ROOTS

22 non-lus

/ 22

Nicholette

,

Novembre

2013
Laytonwoman3rd's ROOT Challenge 2013

24 non-lus

/ 24

connie53

,

Novembre

2013
Meredith reads her own books

42 non-lus

/ 42

mabith

,

Novembre

2013
lindapanzo ROOTS for reading

67 non-lus

/ 67

majkia

,

Novembre

2013
Psutto's half the TBR

38 non-lus

/ 38

LauraBrook

,

Novembre

2013
HelenNZ back for 2013

44 non-lus

/ 44

HelenBaker

,

Novembre

2013
OCTOBER ROOT - Progress Thread

112 non-lus

/ 112

karen_o

,

Novembre

2013
Ticker Thread - no discussion please

93 non-lus

/ 93

Nicholette

,

Novembre

2013
laura_88's ROOTs 2013

29 non-lus

/ 29

laura_88

,

Novembre

2013
wildbill ROOT's in 2013

32 non-lus

/ 32

wildbill

,

Octobre

2013
Ameise1's first ROOT challenge

44 non-lus

/ 44

Ameise1

,

Octobre

2013
Amz pulls up the roots

66 non-lus

/ 66

amz310783

,

Octobre

2013
ROOT - 2013 - lizamichelle1

34 non-lus

/ 34

lizamichelle1

,

Octobre

2013
Hemlokgang's ROOTing record 2013

31 non-lus

/ 31

hemlokgang

,

Octobre

2013
MoonshineandRosefire's ROOT Pruning For 2013!

25 non-lus

/ 25

moonshineandrosefire

,

Octobre

2013
SEPTEMBER ROOT - Progress Thread

83 non-lus

/ 83

rainpebble

,

Octobre

2013
Carmenere's ROOTS are showing.......and they're getting pulled out!

78 non-lus

/ 78

connie53

,

Septembre

2013
LucindaLibri—Getting to the ROOT of the Problem!

24 non-lus

/ 24

LucindaLibri

,

Septembre

2013
TBR@55 Robertgreaves's challenge for 2012/3 part 2

154 non-lus

/ 154

Robertgreaves

,

Septembre

2013
Game: Movie/Actor Game

1 non-lu

/ 1

lizamichelle1

,

Septembre

2013
Auntmarge64 - ROOTing for 60

10 non-lus

/ 10

auntmarge64

,

Septembre

2013
Staffordcastle digs at the ROOT of the towers

43 non-lus

/ 43

staffordcastle

,

Septembre

2013
AUGUST ROOT - Progress Thread

99 non-lus

/ 99

karen_o

,

Septembre

2013
Heduanna's 2013 No-Due-Date Challenge

10 non-lus

/ 10

connie53

,

Août

2013
Nothing like a shiny new year to inspire!

31 non-lus

/ 31

connie53

,

Août

2013
JULY ROOT - PROGRESS THREAD

91 non-lus

/ 91

HelenBaker

,

Août

2013
Regina's 2013 Root garden

16 non-lus

/ 16

thomasandmary

,

Août

2013
HRHTish's Combined and ROOT and Category Challenge for August: Autumn Gothic Immersion, Off the She

19 non-lus

/ 19

HRHTish

,

Août

2013
This is a feature balloon