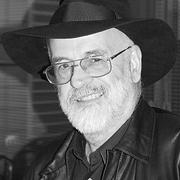 Terry Pratchett
(1948–2015)
Partage des connaissances
Nom légal

Autre(s) nom(s)

Date de naissance

Date de décès

Sexe

Nationalité

Pays (pour la carte)

Lieu de naissance

Lieu du décès

Cause du décès

Lieux de résidence

Beaconsfield, Buckinghamshire, England, UK
Rowberrow, Somerset, England, UK
Salisbury, Wiltshire, England, UK

Études

Professions

Relations

Organisations

Science Fiction and Fantasy Writers of America
British Humanist Association (Distinguished Supporter)
Society of Authors (chairman)
Orangutan Foundation
British Science Fiction Association
Central Electricity Generating Board (

tout afficher

8)
Alzheimer's Research UK
Alzheimer's Research Trust

Prix et distinctions

Officer of the Order of the British Empire (1998)
The Bookseller Services to Bookselling Award (2000)
Honorary Doctorate, University of Warwick (1999)
Honorary Doctorate, University of Portsmouth (2001)
Honorary Doctorate, University of Bath (2003)
Honorary Doctorate, University of Bristol (2004) (

tout afficher

18)
Guest of Honor, World Science Fiction Convention (2004)
Honorary Brownie (2008)
Knight Bachelor (2009)
Margaret A. Edwards Award (2011)
Carnegie Medal (2001)
World Fantasy Award for Life Achievement (2010)
Skylark Award (2009)
British Science Fiction Award (1989)
Locus Award (2008)
Prometheus Award (2003)
Andre Norton Award (2010)
Kate Wilhelm Solstice Award (2016)

Agent

Courte biographie

Sir Terence David John Pratchett (28 April 1948 – 12 March 2015) was an English humorist, satirist, and author of fantasy novels, especially comical works. He is best known for his Discworld series of 41 novels.

Pratchett's first novel, The Carpet People, was published in 1971. The first Discworld novel, The Colour of Magic, was published in 1983, after which Pratchett wrote an average of two books a year. His 2011 Discworld novel Snuff became the third-fastest-selling hardback adult-readership novel since records began in the UK, selling 55,000 copies in the first three days. The final Discworld novel, The Shepherd's Crown, was published in August 2015, five months after his death.

Pratchett, with more than 85 million books sold worldwide in 37 languages, was the UK's best-selling author of the 1990s. He was appointed Officer of the Order of the British Empire (OBE) in 1998 and was knighted for services to literature in the 2009 New Year Honours. In 2001 he won the annual Carnegie Medal for The Amazing Maurice and his Educated Rodents, the first Discworld book marketed for children. He received the World Fantasy Award for Life Achievement in 2010.

In December 2007, Pratchett announced that he had been diagnosed with early-onset Alzheimer's disease. He later made a substantial public donation to the Alzheimer's Research Trust, filmed a television programme chronicling his experiences with the condition for the BBC, and became a patron for Alzheimer's Research UK. Pratchett died on 12 March 2015, aged 66.
Statistiques
Œuvres

399

Aussi par

45

Membres

506,999

Popularité

#3

Évaluation

4.0
Critiques

8,599

ISBN

4,263

Langues

40

Favoris

2,316

À propos

6

Liens rapides

5,096