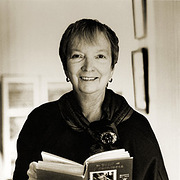 Madeleine L'Engle
(1918–2007)
Partage des connaissances
Nom canonique

Nom légal

Date de naissance

Date de décès

Lieu de sépulture

Sexe

Nationalité

Lieu de naissance

Lieu du décès

Cause du décès

Lieux de résidence

New York, New York, USA
Litchfield, Connecticut, USA
Montreux, Switzerland
Charleston, South Carolina, USA
France

Études

Professions

Relations

Roy, Léna (granddaughter)
Camp, Charles Wadsworth (father)
Voiklis, Charlotte Jones (granddaughter)
Rooney, Maria (daughter)
Moore, Cornelia Duryée (goddaughter)

Organisations

Prix et distinctions

Order of St. John of Jerusalem (1972)
USM Medallion (1978)
Smith College Award (1981)
Sophia Award (1984)
Regina Medal (1985)
ALAN Award (1986) (

tout afficher

15)
Kerlan Award (1990)
Guest Speaker at the Library of Congress (1985)
Authors Guild president (1985-86)
Honorary Doctorate (Haverford College)
National Humanities Medal (2004)
Margaret A. Edwards Award (1998)
Newbery Medal (1963)
New York Writers Hall of Fame (2011)
SF Hall Of Fame (2017)

Agent

Courte biographie

Madeleine L'Engle Camp began writing stories, poems and journals at a young age. When she was 12, she moved with her parents to the French Alps and went to an English boarding school. She attended high school back in the USA at Ashley Hall in Charleston, South Carolina, vacationing with her mother in an old cottage on Florida Beach.

She majored in English at Smith College and graduated with honors in 1941. She moved into an apartment in Greenwich Village in New York, worked in the theater, and published her first two novels, A Small Rain (1945) and Ilsa (1946). In 1946, she married Hugh Franklin, an actor, whom she met while an understudy in Anton Chekov's The Cherry Orchard. The couple moved to Connecticut to raise their family on a small dairy farm village with more cows than people; they later returned to New York City with three children. Madeleine began an association with the Cathedral Church of St. John the Divine, where she was the librarian and maintained an office for more than 30 years. She produced more than 60 books during her career.
Statistiques
Œuvres

132

Aussi par

44

Membres

110,712

Popularité

#76

Évaluation

4.0
Critiques

1,736

ISBN

867

Langues

18

Favoris

453

À propos

3

Liens rapides

1,537