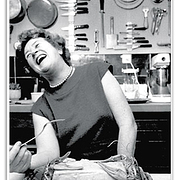 Partage des connaissances
Nom légal

Autre(s) nom(s)

Date de naissance

Date de décès

Sexe

Nationalité

Lieu de naissance

Lieu du décès

Cause du décès

Lieux de résidence

Pasadena, California, USA
Paris, France
New York, New York, USA
Cambridge, Massachusetts, USA
Santa Barbara, California, USA
Marseille, France (

tout afficher

7)
Washington, D.C., USA

Études

Professions

Relations

Organisations

Prix et distinctions

Agent

Courte biographie

Julia Child was born in Pasadena, California. She was graduated from Smith College and worked for the OSS during World War II in Ceylon and China, where she met Paul Child. After they married they lived in Paris, where she studied at the Cordon Bleu and taught cooking with Simone Beck and Louisette Bertholle, with whom she wrote the first volume of Mastering the Art of French Cooking (1961). In 1963, Boston's WGBH launched The French Chef television series, which made her a national celebrity, earning her the Peabody Award in 1965 and an Emmy in 1966. Several public television shows and numerous cookbooks followed.
Statistiques
Œuvres

53

Aussi par

10

Membres

16,930

Popularité

#1,318

Évaluation

4.2
Critiques

286

ISBN

166

Langues

13

Favoris

24

Liens rapides

385